We have no adult rams left.
Check out our ram lamb page.

Click on the registration number next to an Icelandic ram picture to jump to the CLRC extended pedigree for that ram.
Past Rams of Dancing Lamb....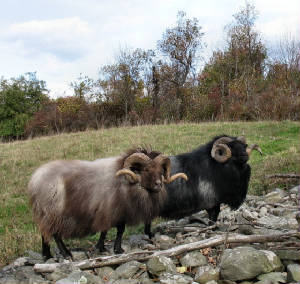 Dante 2010 with Tristan behind him
Dante
Dante is a moorit grey twin out of Beatrice DL-42K (Kani granddaughter) a great milker and mom. His sire was Seigfried DL-101R (Flotti grandson) by Freida FFC-089K.
Dante has very wide horns (we're breeding away from horns that curl very close to the head and his are super-wide). He is long bodied and has an overall correct build. He's a very handsome ram. He's sired great lambs and he's got a nice personality too.,
NFS

* * * * *
Jasper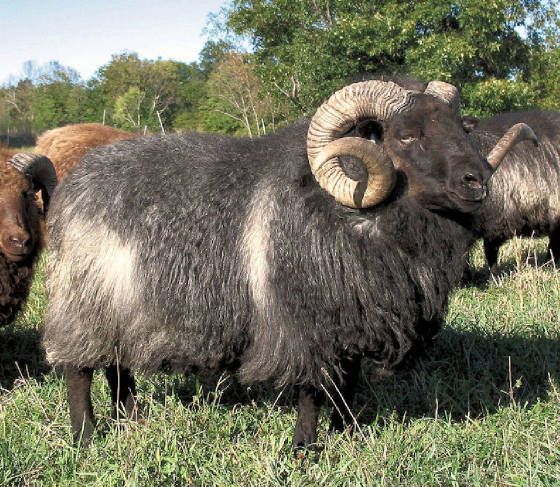 Jasper September 2015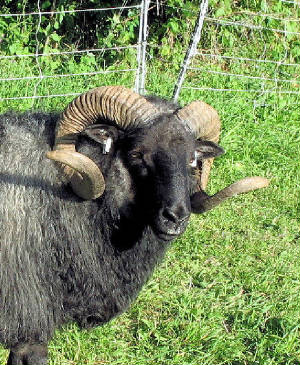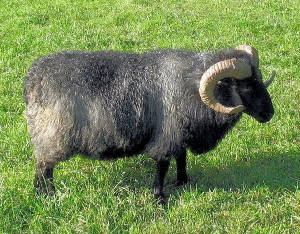 Summer 2014
Jasper is a well built ram out of Munkur, who was probably the best farm bred ram at Dancing Lamb. Jasper has lovely fleece and great horns and he carries morrit and spotting. He is also a well tempered ram who is easy to handle. Jasper has thrown very many nice lambs for us. He carries Aboti, Flotti and Kani genetics
$600
* * * * *
Leif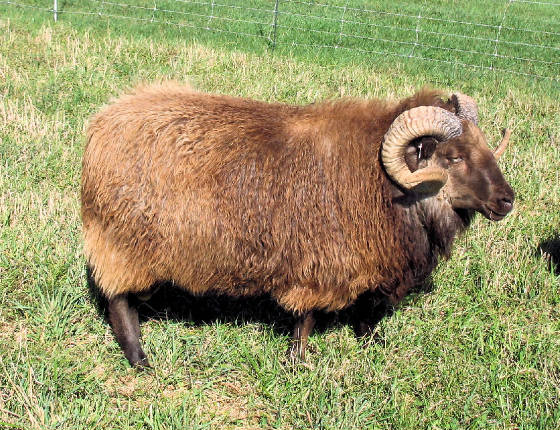 Leif September 2015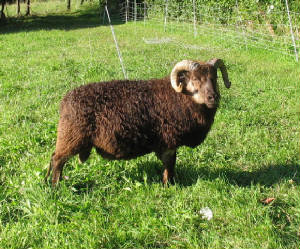 Summer 2014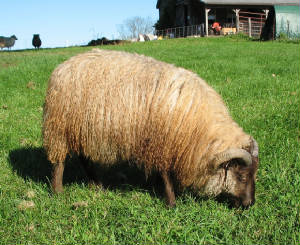 As a lamb
Leif is a gorgeous moorit grey ram (who carries spotting) also out of Munkur. He's thrown great lambs as a ram-lamb and last year as a yearling. He is well built with very good fleece and horns. He is out of milky lines on both sides. Leif carries Aboti, Flotti and Kani genetics.
* * * * *
Darcy
DL-258B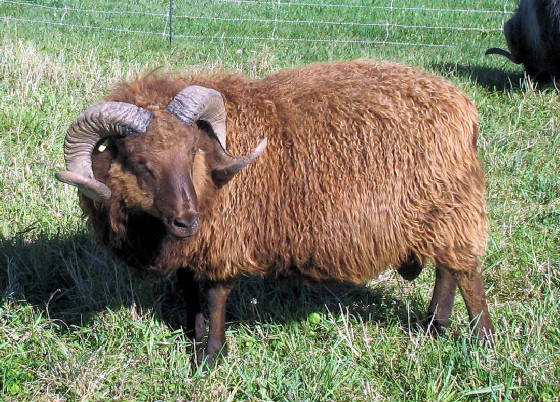 Darcy September 2015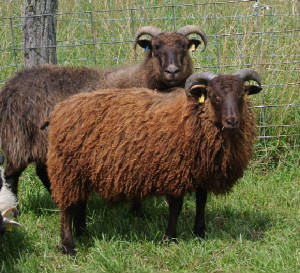 This solid moorit ram lamb is well built and has great fleece. He's got Kani and Flotti in his background. He's out of very strong parents and he has been very parasite resistant himself. He threw several great lambs as a ram lamb. His horns are amazing too!
$700
* * * * *
Kieran
DL-242B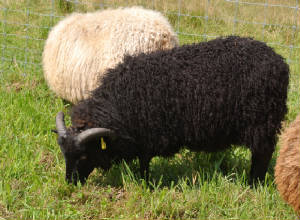 Solid black boy - big with a great build. Nice solid black fleece to round out a super ram lamb. He's carrying moorit and possibly spotting. There's Aboti, Flotti and Kani genetics in this boy.
He broke the tip of his horn as a wee lamb and it is slightly shorter that the other.
$600 Sold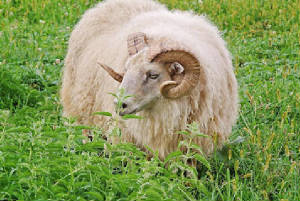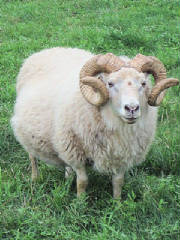 Dakota (F1)
Sire: Raftur AI
Dam: TCE-414U AI Ewe - Grani
This wonderful boy came to us from The Creek's Edge this fall to add new AI genetics to our flock. He's an amazing ram with looks, build and a sweet personality. He's white but carries moorit and grey.
His sire is Raftur:
Raftur is horned and homozygous white. Vigorous head with good horn curving. Thick and well muscled neck and shoulders, good rib shape. Superb back muscling and excellent rump and leg muscling. Very vigorous and muscled ram.
Tan on head and tan fibers in the fleece. Rather fine thog and wool quantity little below average.

Raftur was progeny tested at Hestur exp. farm. His progenies are exceptionally lean with great muscle thickness resulting in excellent meat grading. Raftur combines the qualities of his ancestors, Lodi 00-871 and Gari 02-904, with tremendous results. Raftur is most likely the best Icelandic breeding ram so far.
Raftur's daughters are very prolific with good milking abilities.
Carcass grading 121, leanness 138, MQI 131, daughters are fertile109 and milky 104
Ultrasound 2006: Eye muscle thickness 40 mm, back fat thickness 2,8 mm, muscle shape 5,0. (S)
His Dam is a Grani Daughter:
Grani has great carcass scores on his lambs: grading 120, leanness 123 and MQI 129. His daughters are fertile 111 and very milky 108.
Unfortunately Dakota was killed by my other rams when I put them together after breeding. After all these years, this is the first time I've lost one like this - such a good ram too. At least I had bred him to a lot of ewes, so there should be lots of his offspring born this spring.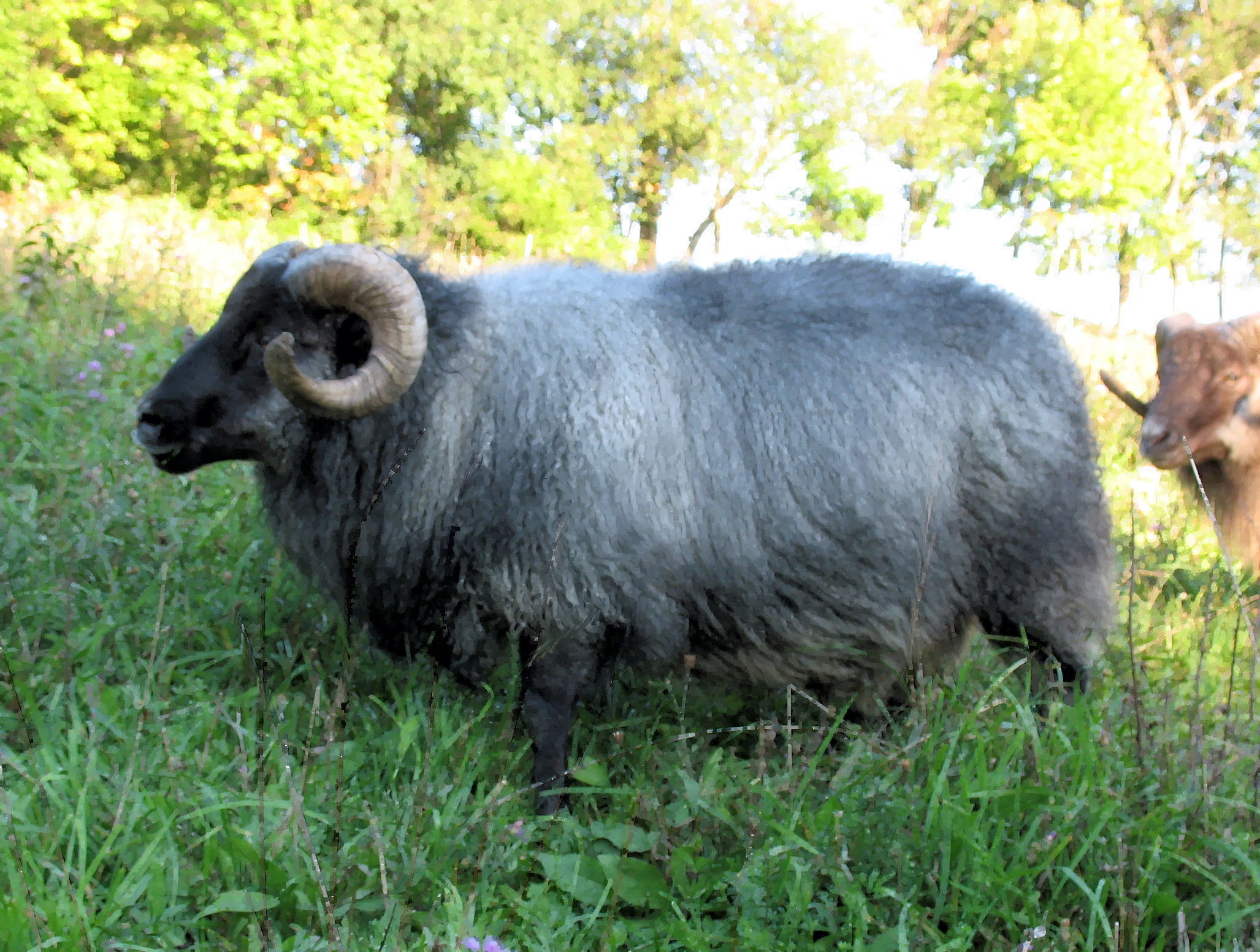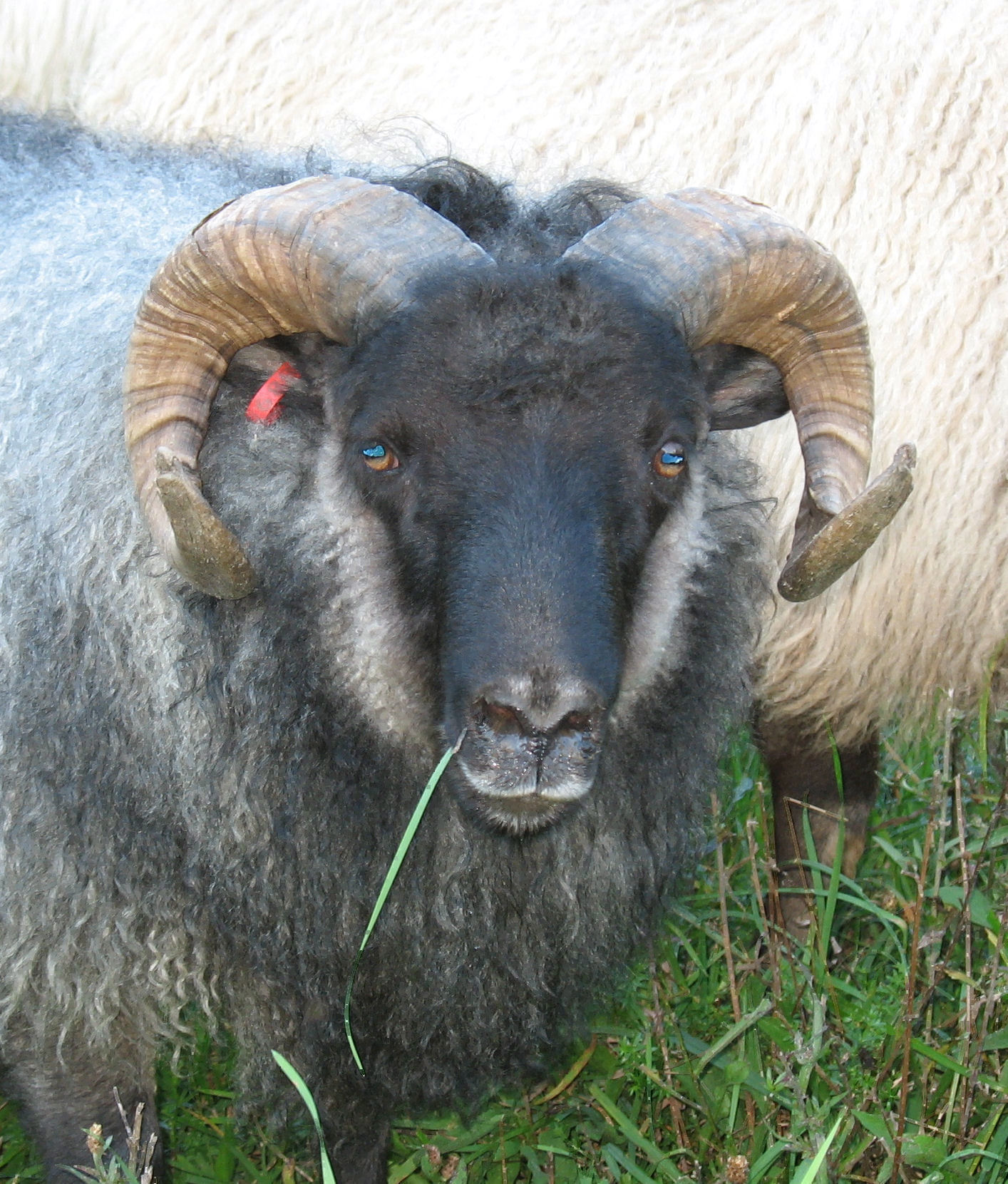 Gabriel (F1)
Our Grabotni boy - the first VAI lamb born at Dancing Lamb and what a great guy he is. He sired quite a few really wonderful lambs as a ram lamb and we're looking forward to many more offspring out of him in years to come. His dam, Greta, is our best foundation ewe. She out produced all the Icelandic ewes in the parlor and gave us many sets of twins and triplets. She's a beautiful badgerface, an F1 Kani daughter, with fleece that's still lovely at 9 years old.
Grabotni:
Grey mouflon with vigorous head and good horn curving. Broad, round shaped and very muscular shoulders. Very good rib shape. Broad and strong back and very muscular rump. Extremely good and well shaped leg muscles. Strong and well placed feet. Longbodied and vigorous looking ram.
Even and good grey color. Average wool quantity. Thick and even thel but short thog with variable fineness.
Grabotni was bought to Southram because of very good results from his birth farm. His progenies have proved to have very thick eye muscle, leanness and superb gigot muscling resulting in very good carcass grading.
Grabotni has very few daughter records yet but so far they have proven to be prolific with good milking abilities.
Carcass grading 130, leanness 126 and MQI 128. Daughters are fertile 117 and mildy 109.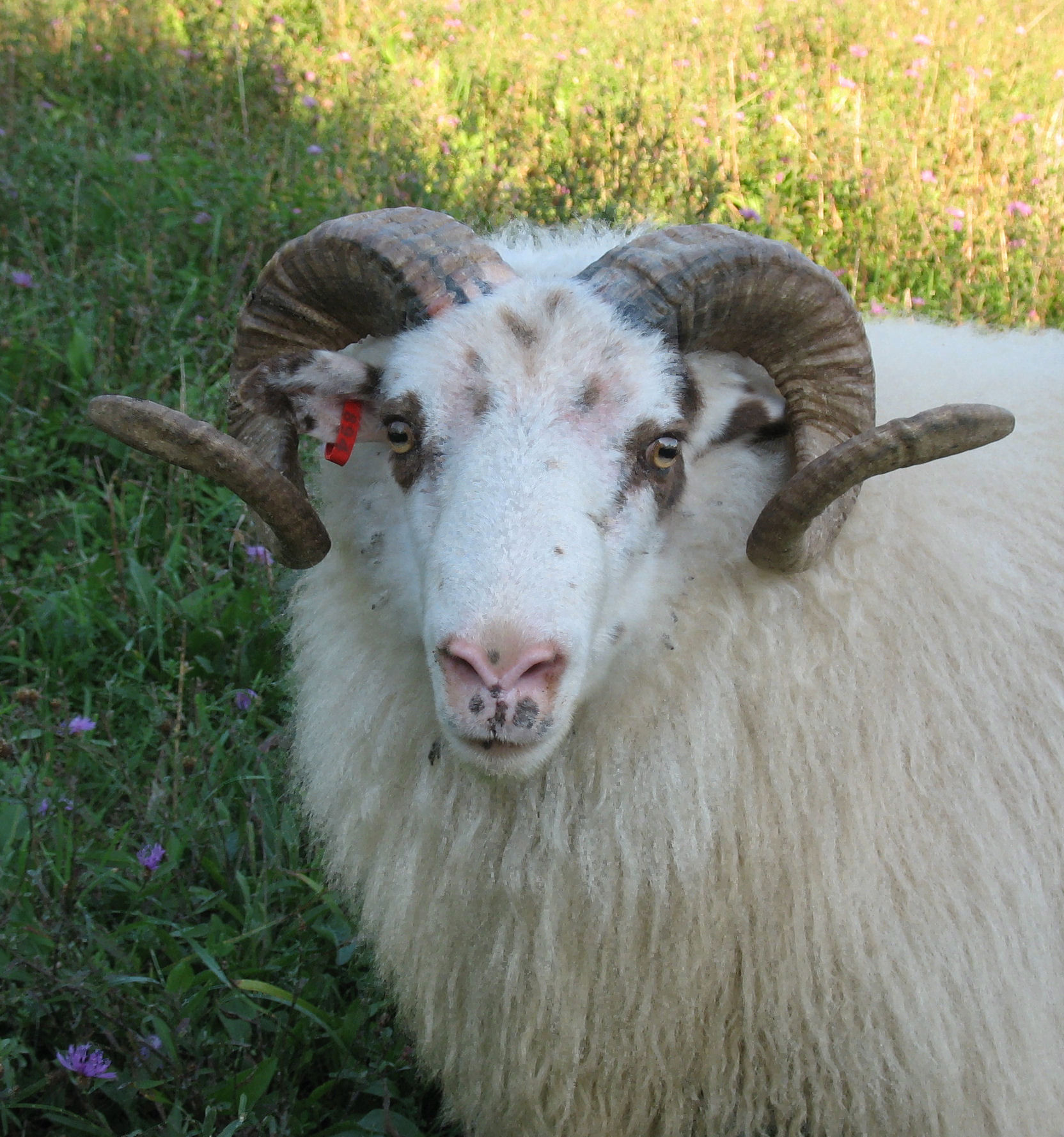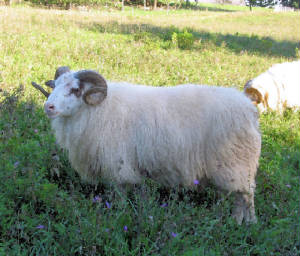 Munker
DL-894Y Registration pending
This guy threw the best growing lambs on the farm. His sons have great wide horns and their build and fleeces are the best. He's a morrit-grey spotted boy and I'm so happy to have some spotting back on the farm. I plan to use him extensively this fall since his offspring have been so exceptional. I have several of his sons on the sale list this year too! He's got Aboti and Flotti in his background.
Sadly, Munkur got caught in the fence and killed. Fortunately, he did sire some nice sons and I'm hoping they will do as well as he did.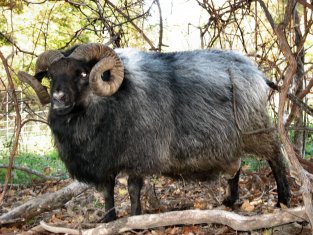 Greyfire (F1)
Greyfire died in an accident. He is sorely missed. I'm leaving his info up since so many of his offspring are still here and for sale. Greyfire is a grey Flotti son by Wind (STS-436E), a big black ewe who had silvered beautifully. He has thrown a lot of very nice lambs (with a lot of greys) at DLF. He was well muscled, with good horns and a lovely fleece. He was one of our best horned breeding rams. He carried moorit.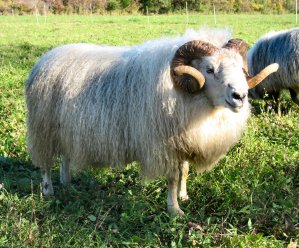 Brendan (F1)
Sadly, Brendan was killed by pokeberry poisoning. I still have some of his offspring, including a wonderful son, Freyr. Brendan is the only registered Aboti son in the US. Aboti was one of the very few AI rams to have a fleece score of 9. Brendan had wonderful fleece with great confirmation and horns. He was an impressive ram and has given us some very nice babies. We know he carried moorit because his son, Freyr does.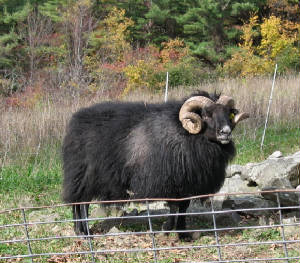 Bogart 2010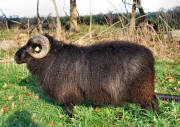 Bogart (Bogie)
Bogart is a powerfully built, beautiful, black, horned ram out of my best lines. His sire (Siegfried) is a big, morrit-grey Flotti grandson by my friendliest (and one of my most productive) ewes. His dam, Greta (a Kani daughter) is my milkiest pure-blooded Icelandic. Her line have consistantly been great milk producers in addition to having great conformation, fleece and horns. They are a stunning group plus they are easy lambers and great moms.
Bogart has produced wonderful lambs (including several morrit solid ones). He's now a flock sire at Funk Farms.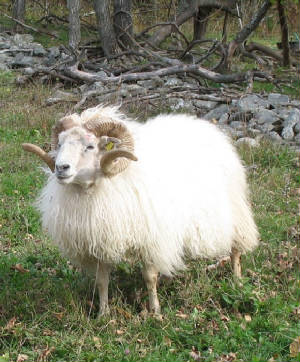 Freyr 2010
This guy is the last lamb given to me by my beloved Fricka, one of my foundation ewes (from Stephania's flock) and a classic Icelandic beauty. She was not just a pretty face either. She was a great milker, easy lamber, great mom - everything you could want in a ewe. His sire was our Aboti son (Brendan) and this ram's fleece shows it. He's got long soft fleece with plenty of thel. He carries morrit and solid.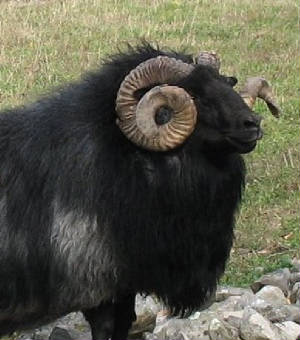 Tristan 2010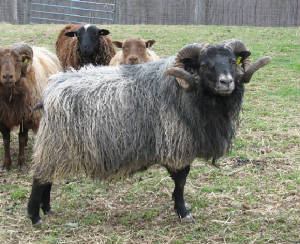 Tristan yearling
Here's another great looking ram. He has lovely dark grey fleece with a kind of lions mane around his shoulders and chest, a long body and and big, nicely curling horns. His parents are both AI offspring (sire is a Flotti son and dam is a Bessi daughter) so he's got 1/2 AI genetics from animals that have been very good on my farm. He's sired some great lambs here at Dancing Lamb.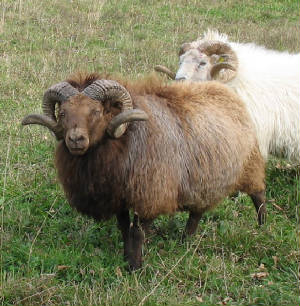 Brando 2010
Brando
Brando is a solid morrit triplet out of Greyfire (TNY-528N) our fabulous Flotti son (see him on our past rams page). His dam was Greta (TNY-516N) a Kani daughter and my best over-all ewe ever. She produced more milk as a young ewe than most of my dairy crosses (Icelandic/Lacaune and Icelandic/EF). She's given me many great lambs. Greta is also a ewe who produces really nice fleeces for many years (her fleece at 6 years old was as nice as most lamb's). Brando is lovely also. He has already given me quite a few really nice lambs and he's very friendly too!
What a good looking boy!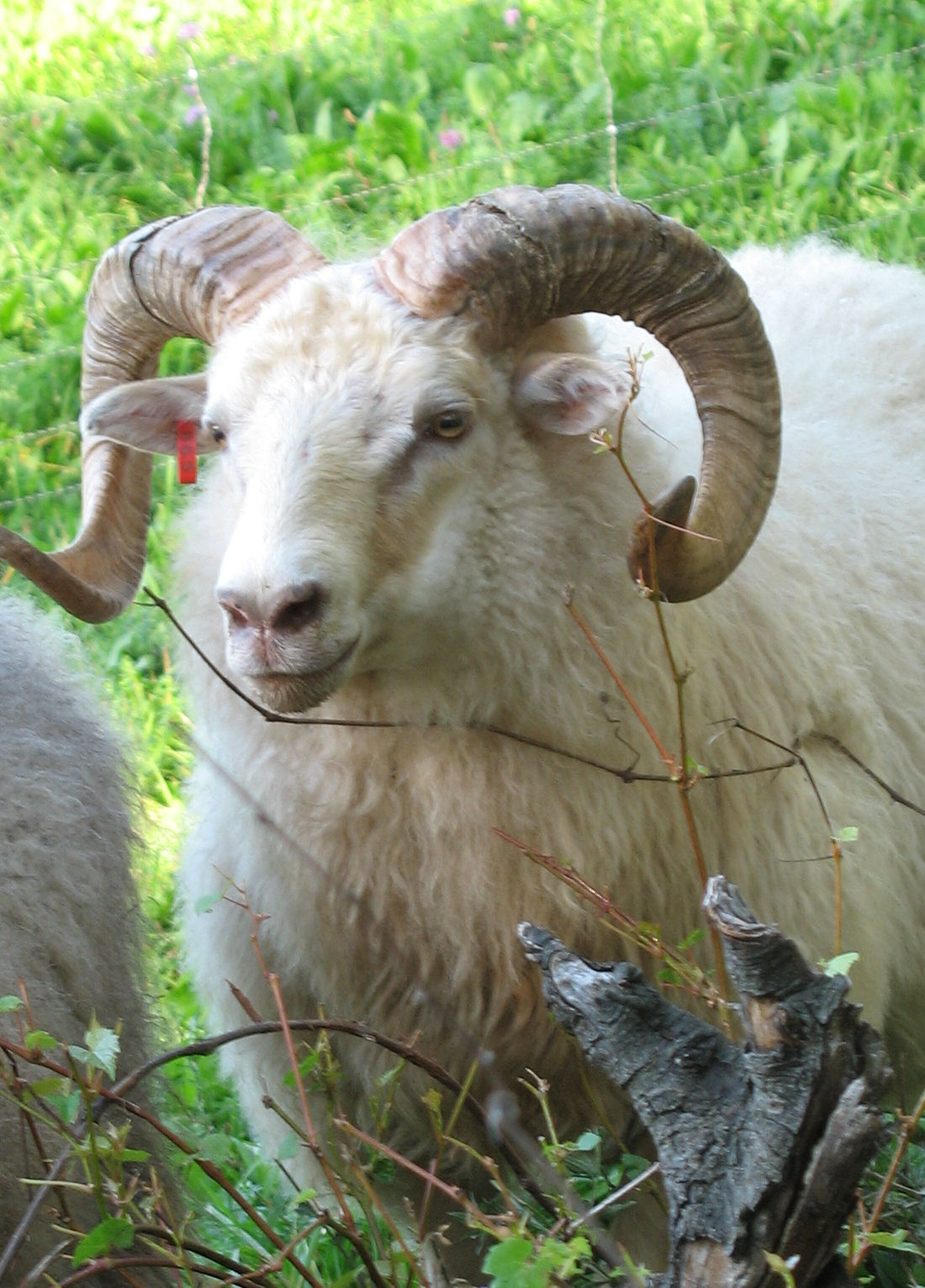 Ranier
DL-865Y Regristration pending
Ranier is another great ram with amazing horns. He was really fast growing as a lamb and he developed into a solid guy with a great build. He's got quite nice fleece also. His horns are quite wide and I expect he would be a great ram to breed to ewes with close horns. He's got Kani and Flotti genetics and his dam's from a very milky line. He carries moorit and solid.